Dental surgery is not on the top of anyone's list of fun activities. In fact, dental work, in general, is a common phobia. So keeping patients calm, relaxed, and distracted during dental procedures if of vital importance. One unique feature of dental procedures is that patients spend most of their time staring up at the ceiling. Also, many dental surgeries are performed with the patient awake, using only local anesthetic or mild sedation. Decorative light panels can provide a soothing and relaxing focal point during dental surgeries and other procedures.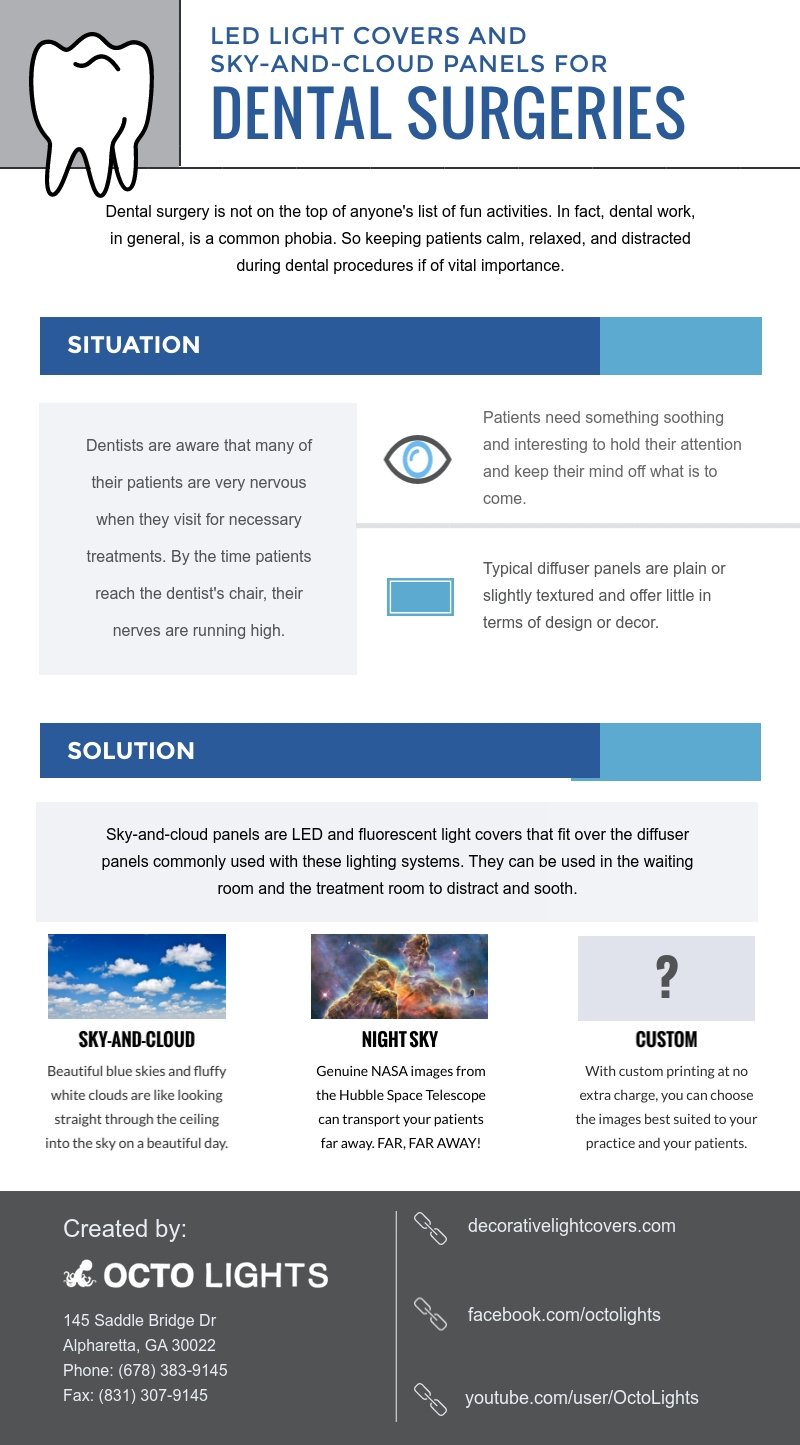 Where to Use Decorative Light Covers
Fluorescent lights are very common in medical settings, and they benefit tremendously from sky-and-cloud panels. As prices drop, LED lights are also rapidly becoming a light source of choice. LEDs are especially appealing in medical and dental offices where power costs affect the bottom line. Decorative light panels are excellent for both fluorescent and LED lights, and can be a welcome addition to any medical or dental office decor.
As we have stated in previous posts, LED lighting is the most cost-effective means of illumination currently available. They are cheaper than fluorescent lamps over their lifetime, though currently, they are more expensive to purchase upfront. They are certainly better than tungsten incandescent bulbs in almost every respect. The only issue with LED light sources is that they are very directed, and so require a diffusion panel to enable them to be used for general lighting.
Diffuser Panels
Diffuser panels are standard in both fluorescent and LED light fixtures. They are usually made of frosted glass or plastic. Typical diffuser panels are plain or slightly textured and offer little in terms of design or decor. Luckily, diffuser panels can be covered with LED or fluorescent light covers from Octo Lights. Our covers are printed with a range of designs that can be backlit to offer some amazing lighting effects.
Soothing Decorative Light Panels for Dental Surgeries
Dentists are aware that many of their patients are very nervous when they visit for necessary treatments. Almost everyone would rather be somewhere else than sitting in a dentist's waiting room. In may waiting rooms you can already hear the high-pitched whine of the dentist's drill that grates on the teeth and the nerves! So by the time patients reach the dentist's chair, their nerves are running high.
Patients need something soothing and interesting to hold their attention and keep their mind off what is to come. LED and fluorescent light covers and other forms of sky-and-cloud panels can achieve this. Sky-and-cloud panels are LED and fluorescent light covers that fit over the diffuser panels commonly used with these lighting systems. They can be used in the waiting room and the treatment room.
Octo Lights sky-and-cloud panels are printed with photographs of a white cloudy sky. They feature a blue sky with soothing white fluffy clouds illuminated by the diffuse lighting behind them. However, there are more designs available than just sky-and-cloud panels. You can have panels printed with beautiful orchids and other flowers, peaceful ocean and beach scenes, waterfalls, and towering trees.
Custom Panels
You can even have your panels printed using your own photographs. While some businesses choose to use custom images for advertising and branding, perhaps photos of your clients' teeth would be a step too far. But you could choose any custom image you think would suit your clients best.
Maybe you have your own favorite photograph that you would like to display on your surgery room ceiling. The goal is to take your patient's mind off that exquisite bridgework or root canal procedure you are carrying out. They will be grateful to you for any form of distraction. Some dentists use music or even aromatherapy. Decorative light panels for dental surgeries are another great tool in your toolbox of client relaxation techniques.
LED sky-and-cloud panels are very popular forms of ceiling decoration where there is a need for distraction and a calming influence. That is why they are also used in schools, hospitals, and nurseries. Decorative light covers can also be used in medical and dental offices for the same reasons. Their low price of $29.99 for standard or customized 4 ft x 2 ft panels enables you to test their effect at low cost. And if you love them, investing is panels for every room is a cost-effective investment that you can easily afford.